Item no.:
PS 85 N
Large, efficient barrel-shaped impulse cooler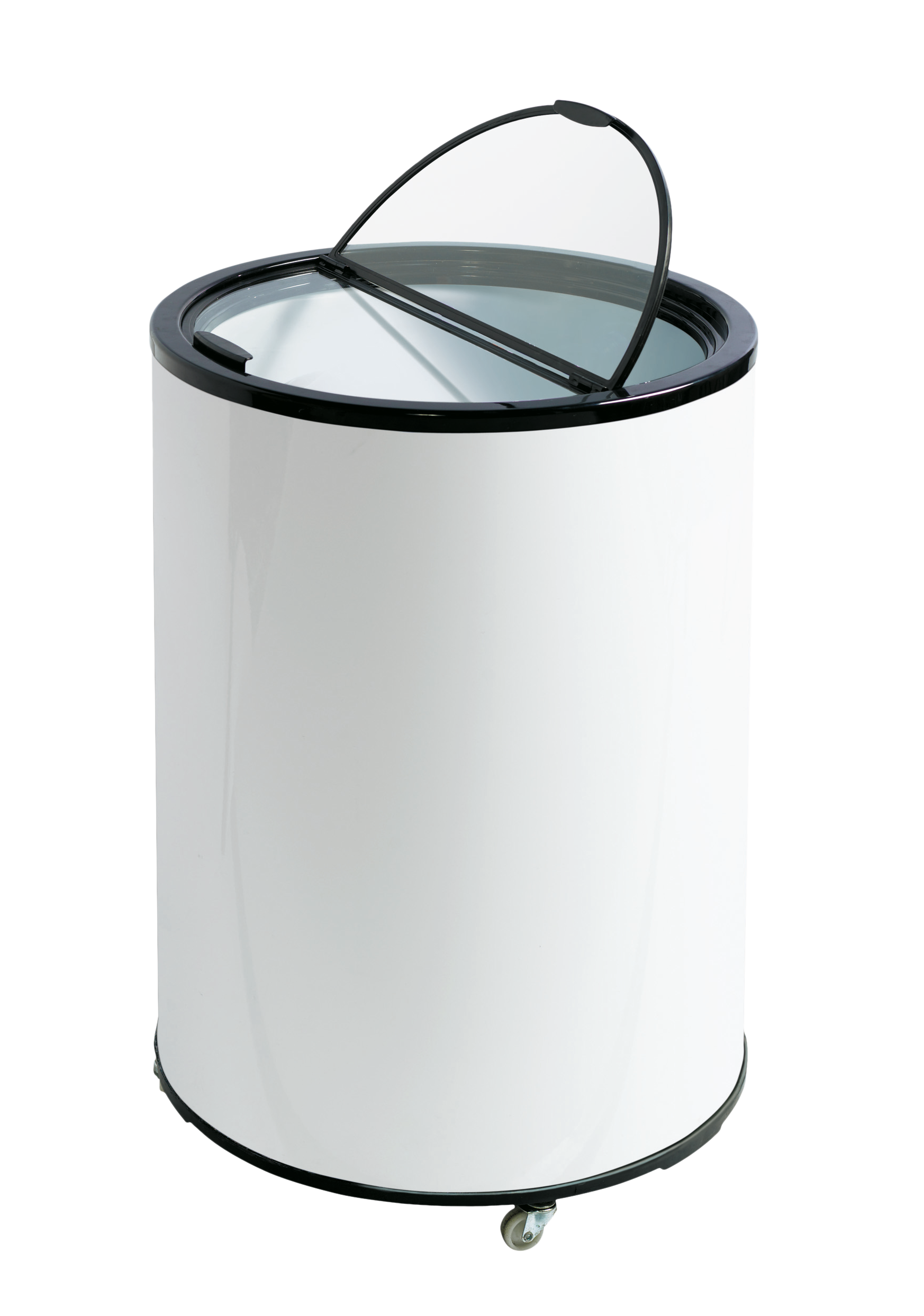 If you would like to boost your impulse sales, a barrel cooler is the way to go.
The PS 85 N is a bigger case with a capacity of 85 litres, so no one has to go without cold drinks. The model is also available in 40 or 65 litres.
The impulse cooler comes with static cooling and cools down to between 2-10 degrees.
Features
Two-part tiltable lid
Four fitted wheels
Drainage system
Scratch-resistant surface
Get organised and make it easy for your customers
With PS 65 N, you have the option of purchasing a practical partition that makes it easy for you to organise the contents of your cooler. This will also make it easy for your customers to get an overview of the options available to them.
The barrel cooler has a two-part tiltable lid that can be easily opened to grab the desired product.
This impulse cooler offers a stylish design that fits in anywhere and has a scratch-resistant surface. However, if you would like to make the cooler your own, there is also the option of having a decorative film applied. If you are interested in this, please contact our sales department via eksport@vibocold.dk or on +45 8750 3447 to find out more.
Find the perfect location
The four fitted wheels make moving your 85-litre barrel cooler easy and straightforward. It also makes it easy to clean under and around your cooler, but more importantly, it allows you to experiment with the cooler's placement.
If you would like to boost your impulse sales, it is essential that you place your barrel cooler in the right place. The perfect location may depend on the season and whether there are special events in the area that are likely to boost cold drink sales.
With its four wheels, you can easily move the PS 85 N to find out which location gives the best impulse sales and, thus, boosts your revenue.
Related products
Promotional price

Save up to 40 %

Read more

PS 40 N

Dimensions: 440 x 440 x 740 mm

€269.00

excluding freight, taxes and VAT

Product data sheet

Promotional price

Save up to 50 %

Read more

PS 65 N

Dimensions: 445 x 445 x 960 mm

€309.00

excluding freight, taxes and VAT

Product data sheet

Read more

DCF 80

Dimensions: 569 x 569 x 849 mm

€739.00

excluding freight, taxes and VAT

Product data sheet